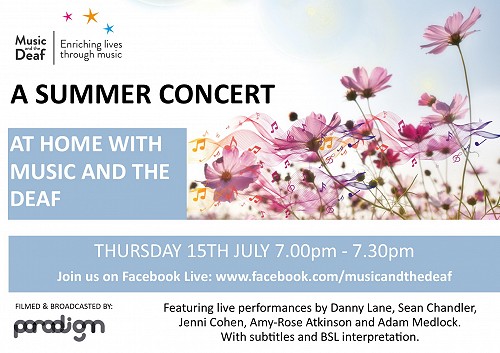 We are delighted to announce our forthcoming 'Summer Concert: At Home with Music and the Deaf,' which will be broadcasted live on Facebook.
This is the third event in our series of online concerts, which provides live music to you all in your own homes free of charge. We are passionate about increasing opportunities for both deaf and hearing musicians to perform together and to provide accessible musical experiences using captions and BSL interpretation.
There will be a wide range of musical performances during the evening to suit all tastes and the event will be suitable for young people as well as adults. Our musicians performing will include Danny Lane (piano,) Sean Chandler (trumpet,) Jenni Cohen flute,) Amy-Rose Atkinson (voice / fiddle) and Adam Medlock (guitar.)
We are extremely grateful for the generous support that we receive from our Friends and donors, which enables us to provide these events. We are also delighted to be working with Paradigm Creative Ltd, who will be broadcasting our concert.
If you would like to watch the concert, please click 'going' on our Facebook event page, as this will remind you when we are about to go live: https://www.facebook.com/events/266821278569776?ref=newsfeed
We do hope you will join us for what will be an entertaining evening!