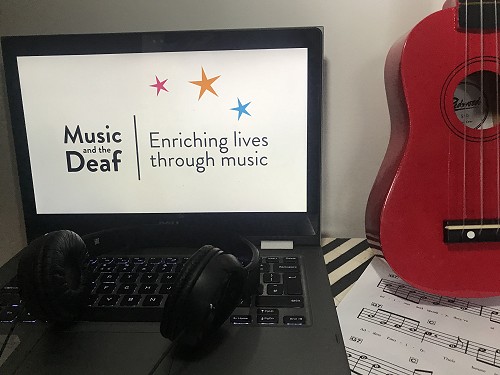 We are thrilled to announce that Music and the Deaf has been awarded a grant of £24,148 from Arts Council England's Emergency Response Fund. The money will help the charity to adapt during the lockdown and provide accessible music-making resources, articles, vlogs and live concerts online. Danny Lane, Artistic Director, says "We have always worked in a very practical way by travelling nationally and providing face to face services including workshops, performances, training courses and education projects. Technology will help us to continue supporting deaf people and their families as well as the wider community during the current lockdown. We have a wide range of online resources and events planned for the next 6 months and we're very excited!"
Music and the Deaf will develop:
Music workshop videos which provide opportunities for deaf children and young people to take part in music-making activities in their own homes.
Virtual meetings for families so that we can provide ongoing support and advice.
Opportunities for musicians, including deaf people, to perform and for the public to watch live stream concerts.
Vlogs and articles which raise awareness of various music and deafness topics.
All our resources will be uploaded on Music and the Deaf's website and we will be signposting the public to these via our social media pages. If you would like to find out more please contact Danny Lane, Artistic Director, at: danny@matd.org.uk