What We Do > Projects
Music and the Deaf has a long-established reputation for breaking new ground with its projects that look to overcome the barriers that deaf people can face in accessing and enjoying music. From developing provision for deaf children as part of the national 'Sing Up!' programme, and the pioneering, UK-wide, Deaf Youth Orchestra project, Music and the Deaf looks to continue this reputation through its new project, the West Yorkshire music programme.
West Yorkshire Music Programme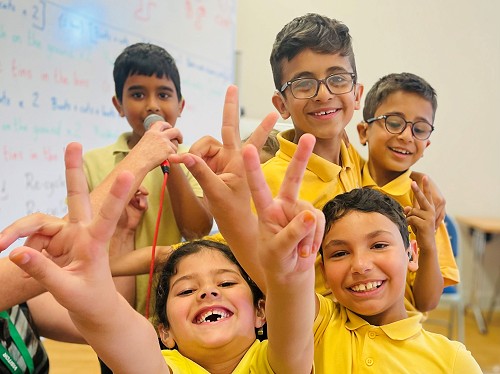 In January 2022, we launched our brand new weekly music programme for D/deaf children and young people in their schools across West Yorkshire. We were extremely grateful to the Hollyhock Charitable Foundation for funding this project as well as the local Music Education Hubs and schools. As part of our programme, we are currently running three signing choirs in Bradford, one brass group in Leeds and two 'Vocalise' groups in Calderdale and Wakefield. Since launching this project, we have engaged over 87 D/deaf children and young people on a weekly basis through progressive group tuition and music workshops.
Vocalise was a strand of the project which we wanted to explore by offering ground breaking singing activities to find out what impact singing has on D/deaf young people. We were also keen to explore what teaching approaches would help to make singing activities as accessible as possible. We were thrilled by what was achieved in the sessions using songs that required different vocal techniques including chants, beatboxing, pitched singing as well as vocal sound effects. We also explored call and response formats and group singing and found that with pitching, rhythmic and notation exercises as warm ups, this was extremely important for children with limited exposure to music. Many of the participants have reported that they enjoyed singing and all of them have performed as part of a choir for the first time in public, including the Wakefield Music Education Hub's 'Big Sing Concert' in July 2023.
The brass group in Leeds has been phenomenal due to the popularity and sustained number of pupils attending. The participants have affectionately named their group 'deaf band,' as they quickly developed a sense of belonging to their group of deaf peers who meet up once a week through the enjoyment of music making. This group has performed with the Rothwell Temperance Band, which accompanied them whilst they played their own original music. It was hugely inspiring for them to perform in front of an audience of 120 people for the first time and alongside professional brass players.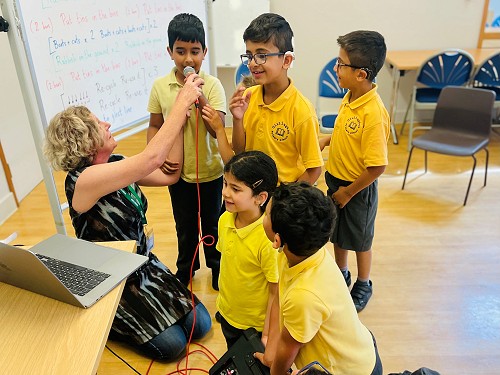 The Bradford signing choir sessions have enabled participants to explore many songs, by learning what the lyrics mean and how they can be translated into sign language. This has supported literacy skills as well as signing and has been hugely important for deaf children to develop language and social skills. In addition they have learned music notation and rhythm which helped the groups to develop awareness of team work and time keeping. They took part in Music and the Deaf's annual advent calendar by recording and submitting their own videos online.
We were delighted to work with composer, Holly Marland to provide creative sessions for all the groups and to inspire them to develop their own songs about taking care of the environment. This encouraged self-expression, sharing creative ideas and taking ownership of their own work. Over the past year, all the groups developed nine songs which were recorded so that they could be shared in the community and used as a resource in other schools.
We have consulted with the schools involved in the programme and they are extremely keen to continue the music groups. We plan to offer one to one lessons to help enhance music learning, to continue group music making as well as set up new groups to provide continuity for those who transition to secondary school. In addition, we will continue to offer composing sessions so that participants can continue to develop confidence expressing themselves and sharing their own creative ideas with their peers.
We are extremely proud of what the participants have achieved so far and look forward to continue working with them on their musical journeys!
If you wish to find out more about this project or would like to discuss the idea of setting up a music group in your area, please contact Danny Lane, Artistic Director, at: danny@matd.org.uk