What We Do > Projects
Music and the Deaf has a long-established reputation for breaking new ground with its projects that look to overcome the barriers that deaf people can face in accessing and enjoying music. From developing provision for deaf children as part of the national 'Sing Up!' programme, and the pioneering, UK-wide, Deaf Youth Orchestra project, Music and the Deaf looks to continue this reputation through its new projects FORTE and Frequalise.
All Together Pilot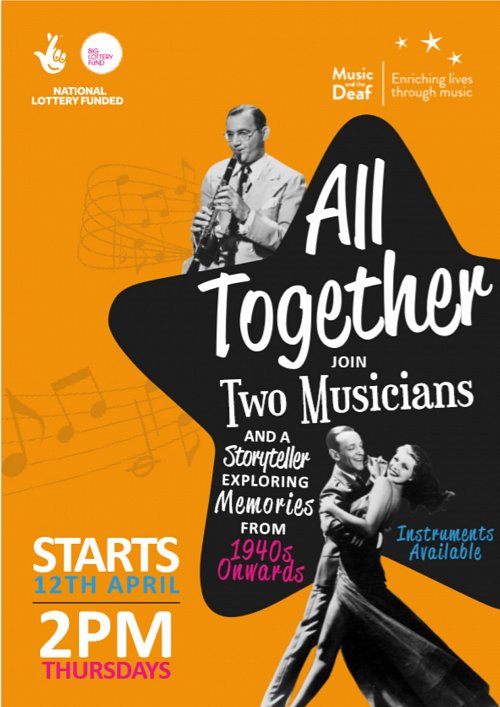 We were delighted to have been awarded a grant of £9,920 from the Big Lottery Fund to run a pilot project called 'All Together' at Norman Lodge Care Home in Bradford. In April, we launched a weekly programme of workshops for the residents which were led by Music and the Deaf's Artistic Director Danny Lane, Matthew Bellwood, a writer and story teller and Sam Hodgson, a musician. So, far we have already seen some fantastic results. Using instruments, visual props and themes for each week, we helped each resident, deaf and hearing, to communicate and engage with each other and rekindle long-forgotten memories in an informal, supportive and sociable environment. Have a look at our video below and on our blog to find out more. We are now applying for funding to build on the impact that we have made at Norman Lodge and to make this programme available in other areas. If you are able to help with funding this project or would like to work with us then please get in touch with Danny Lane, Artistic Director: danny@matd.org.uk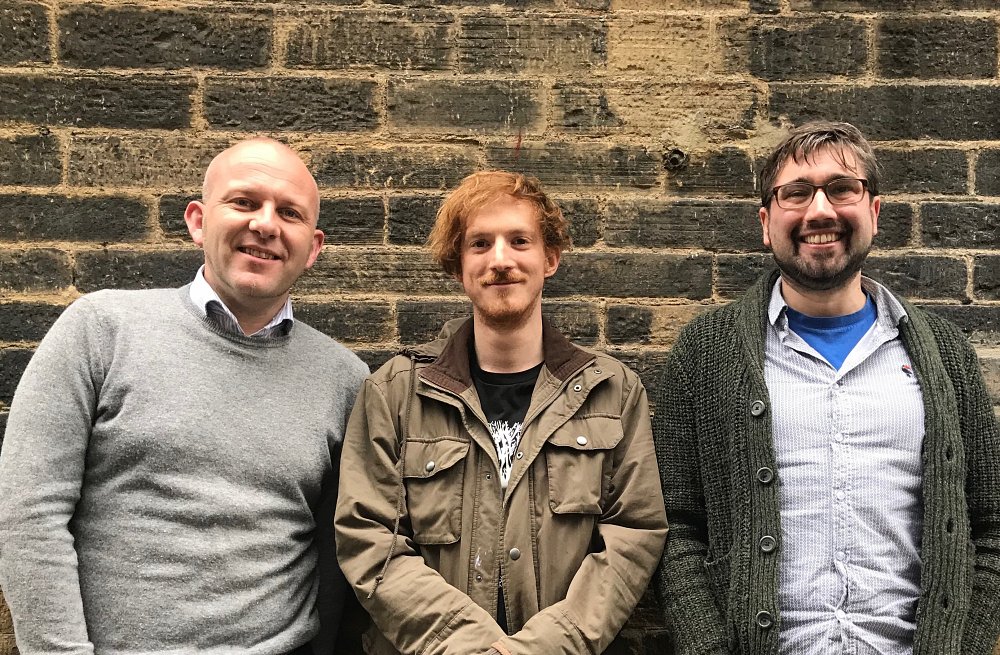 Modulate
Music and the Deaf will be working in partnership with five Music Education Hubs in the UK, alongside their local Deaf and Hearing Support Teams, to increase investment in and access to music-making for deaf young people. Each Hub will receive three 'Inspiration Days' to directly engage students in primary and secondary schools. In addition, each Hub will receive deaf awareness training, guidance in teaching practice techniques and two follow-up 'musical surgeries' to allow us to troubleshoot issues with teachers on a one to one basis.
The project will also provide four bursaries per hub for students to pursue instrumental lessons. Activity led by Music and the Deaf will take place over twelve months during 2018.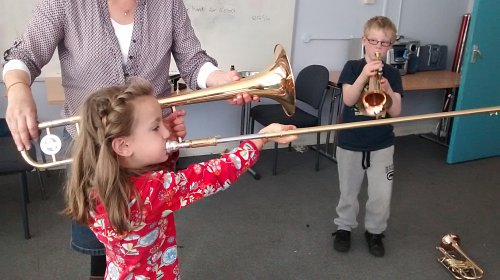 There are 121 Music Education Hubs across the UK. Government policy defines that Hubs must provide an inclusive service that engages every child, however many Hubs simply do not have the expertise in order to do this effectively. As a result, many children and young people are not accessing the same education as their peers. The Hubs are only currently working with 14% of those with Special Educational Needs (Music Education Hub Report 2015.) In addition, the Department for Education reports that overall, a total of 4.3% of pupils participating in ensembles and choirs were identified as having SEN. This is significantly lower than the 15.4% of pupils with SEN in the national population (DfE, 2015b.) As outlined by the government's strategy for music, Hubs must work alongside partners and leaders to achieve best practice and improve access and achievement for all groups of pupils. This should include deaf students and Modulate is designed to positively overcome barriers that may prevent equal access. The Hubs we will be working with this year are:
Birmingham Music Education Partnership, Sandwell Music Education Hub, Sollihull Music Service, Rotherham Music and Devon Music Education Hub.
We are grateful for the generous support of funders and donors who have helped us to make this project possible, including Mac Makes Music, Youth Music, Ovingdean Hall Foundation, Lions International, Arts Council England, Boshier-Hinton Foundation and Charles Stanley & Co. Ltd.
If you would like to find out more, please contact Danny Lane, Artistic Director: danny@matd.org.uk
The FORTE Ensemble
Music and the Deaf is passionate about promoting more high profile performances by deaf and hard of hearing musicians, as well as engaging new deaf audiences with classical music. Formed by the charity, the FORTE Ensemble is a unique group of four deaf professional musicians who are committed to raising expectations of what deaf people can aspire to and achieve in music, and promote more high profile performance opportunities for musicians with a hearing loss.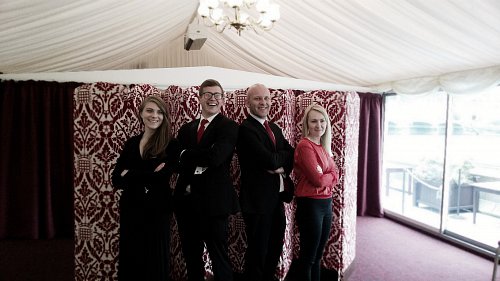 Featuring Danny Lane (piano), Ruth Montgomery (flute), Sean Chandler (cornet), and Eloise Garland (soprano), the group made their debut performance at the House of Lords on 25th May as part of the Decibels Year of Sound launch event, followed by a concert at Sage Gateshead on 1st June, and finally Kings Place on 10th July. These concerts were truly ground breaking, being entirely deaf-led and featuring exclusively musicians with a hearing loss.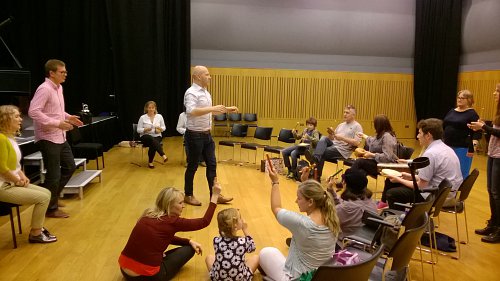 The musicians of the Ensemble also gave a free music workshop for deaf and hearing children at both Sage Gateshead and Kings Place. This allowed children with a hearing loss to see that a career in music performance is one that they can and should aspire to, and provided a space for parents to come together to ask the musicians how they overcame their deafness and the challenges that their children now face.
Video: The FORTE Ensemble at Kings Place, London, 10 July 2016
We would like to thank Sage Gateshead and Kings Place for supporting this project and hosting the Ensemble. We feel privileged to have performed at, and worked closely with, these two amazing venues that have taken a ground-breaking step forward in being the first two venues in the UK to host an entirely deaf ensemble, and deaf-led classical music concert.
We hope the Ensemble will continue long into the future and will be performing in a venue near you very soon!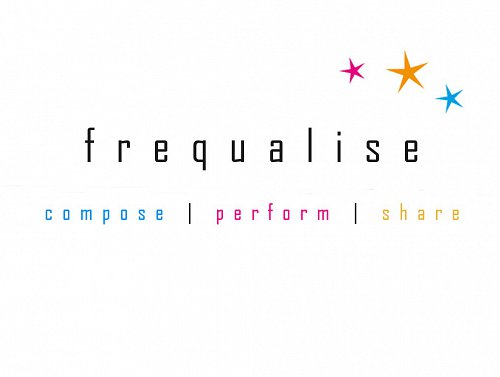 Frequalise
Changes in technology have had a profound impact on how we all access, listen to, perform and enjoy music. We created Frequalise to engage more deaf and hard of hearing young people in digital music-making technology, allowing them to be as much a part of the digital revolution as their hearing peers and express themselves through their own music. Working with communities and schools in Bradford and the wider Calderdale and Kirklees regions, Music and the Deaf has led workshops in which deaf young people can explore their creativity using microphones and speakers, in addition to software such as Garage Band and Logic Pro, and apps used on tablets and phones. We have seen a remarkable impact, with children and young people who have sometimes had little or no prior connection to music, using the technology to experiment with and develop their own musical voice.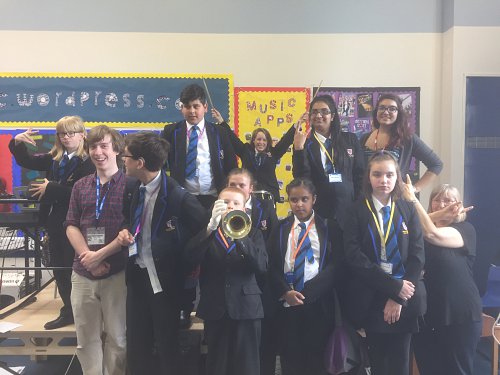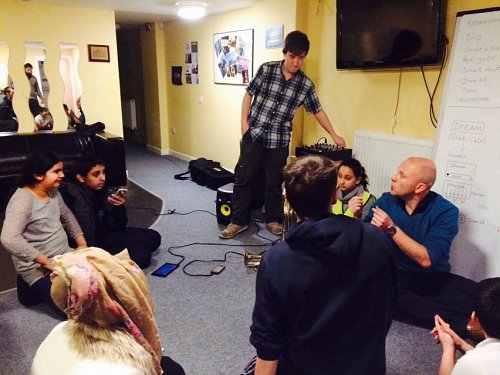 Feedback from the participants and teachers has also revealed what impact this project has made on developing confidence among the participants and highlighted the need to do more beyond the project and develop its legacy. One student said "I would like to practice the microphone [singing]" and a teacher has said "It was lovely to hear some students using their voice. Using the microphone took away inhibitions. Lovely to see one student feeling the beat through the speakers. Games and activities encouraged team building and confidence". We are constantly observing the sessions and collecting feedback so that we can put together a report and share our findings with the wider workforce through a seminar later on in the year.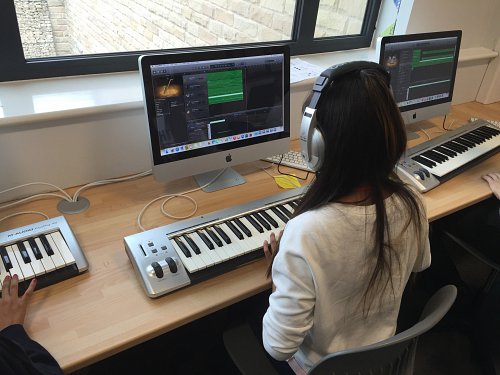 We are delighted that this project is developing a legacy and it is our hope that these future leaders will help us to build on the success of this pioneering work.
"All the students looked focussed and obviously enjoyed themselves. Love to see such ENTHUSIASM!" (audience member, Newsome High.)
"I found this lesson fun and educational. I know now how to be confident on stage" (student, Newsome High).
We are thankful to our funders, Youth Music, for enabling us to carry out such a valuable study and we are looking at ways of being able to take this project out into the community and share the legacy of this work into the future.