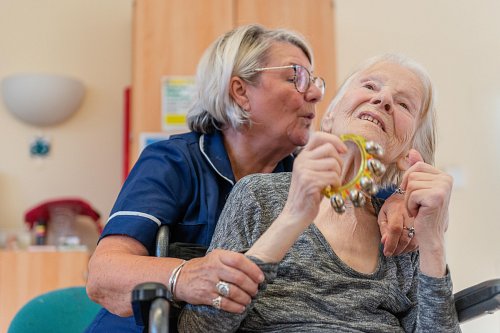 Music and the Deaf (MatD) have successfully delivered a 12-week pilot project, All Together, at Norman Lodge, a care home, resource and day centre based in Bradford, West Yorkshire. This project took place over three months and engaged with 89 individual residents and day visitors. The project merged music (including singing, song-writing and playing instruments) with movement and storytelling, and explored memories decade by decade with participants through key events from both their personal lives and key events in history. We enriched the sessions with use of memory boxes containing original items from decades past to spark memories and unlock stories from the past that participants have in common, creating links between these individuals. The sessions also incorporated physical warm-ups and gentle exercises for participants to engage in. The activities were delivered by Danny Lane, Artistic Director, Sam Hodgson, a songwriter and community musician and Matthew Bellwood, a writer and story teller. The project was funded by the Lottery Awards for All.
The participants included residents who were living in Norman Lodge, people who were staying there for short-term respite care, and community residents who visited the centre for daytime, non-residential care. Many participants reported that the project was the highlight of their week. Some were living alone in the community and this provided a vital connection with other people in similar circumstances. Others were resident in Norman Lodge and it gave them a focus to step outside of a daily routine and leave their private room to engage with others in the centre.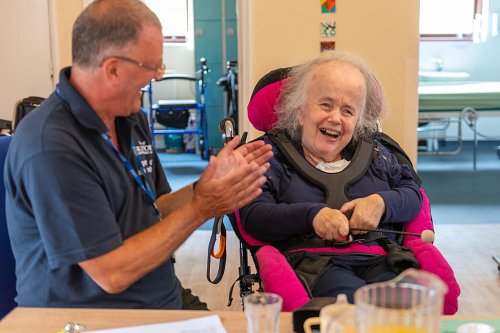 Many of the participants engaging with the project had a degree of hearing loss, ranging from mild to profound. Hearing loss can be extremely isolating, in addition to other factors causing loneliness for the participants.
Our evaluation has shown that the numbers of people attending each week grew to the average of 17. All the attendees said that they wanted more sessions and 83% reported that the project has made them feel full of high spirits and much happier with themselves. One member of staff said "it brought back memories for the group, gave them a chance to socialise and try new things." One participant said "Please can you all come back again. Please, please, please!" In addition to feedback, we have already seen evidence of the All Together project reducing isolation, supporting social cohesion, self-confidence, memory retention and improving wellbeing through music-making. For those who had a hearing loss, we enabled them to access, enjoy and benefit from music-making. The project has allowed the participants to get great joy from doing and actively contributing through making music, not just passively listening or wanting to be entertained.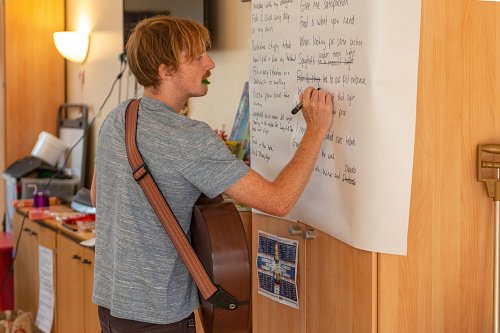 We are currently seeking funding to offer a longer-term project in Norman Lodge plus an additional project at another care home in West Yorkshire. The impact of the project will be more profound if we have a longer time to engage with participants, and the number of those we will reach will increase with the extended length of project and the additional venue too.
If you would like to find out more the project or provide support, please get in touch with Danny Lane, Artistic Director at danny@matd.org.uk or call on 07988 292218.
(All photographs were taken by Lizzie Coombes: https://b-m.facebook.com/LizzieCoombesPhotographer/)